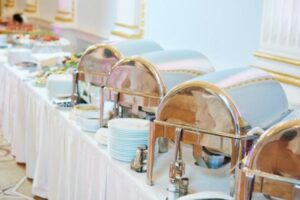 When planning your wedding day, food will be among the biggest considerations. While there are seemingly endless choices for what to serve on your big day, there is one major decision that has to be made early in the process: will you have a sit-down or buffet-style dinner?
Sit-down dinner is the traditional way to go and still more common than buffets. But there are benefits to trying the buffet-style meal at your wedding. Here are a few of them:
Cost
It's no secret that weddings can be quite expensive. With the rings, dresses, venue, décor, bachelor and bachelorette parties and honeymoon, you're going to be spending quite a bit of money. So, if you're looking to save a little bit when it comes to food, buffets tend to be significantly less expensive than sit-down meals, even when the food is of a similar quality. This is because chefs aren't taking the time to perfectly plate each meal and are instead leaving that to the guests.
It Offers More Variety
Sit-down meals generally don't offer too much in the way of variety. Maybe you get a choice between chicken, steak, seafood or vegetarian, but that's still fairly limited. A buffet can offer you and your guests significantly more options. Instead of a seafood option, you can have multiple different types of seafood. Instead of one vegetarian choice, you can opt for a few different kinds of salad.
It May Work Better with Your Vibe
If your wedding is semi-formal or maybe even a little bit more informal, a buffet option may fit with the vibe you're going for. If you're not in a formal venue surrounded by guests wearing tuxes and gowns, sitting around waiting for a perfectly-plated filet mignon may just not feel right.
Go With a Theme
A buffet-style dinner makes it much easier to go with a dinner theme. Maybe you want follow a theme that reflects your culture. Or maybe there's just a type of food you really enjoy and want to share with your loved ones on your special day.
If you're planning a wedding and are looking for a catering service, consider Kama'aina Catering & Tent Rentals. Our food service goes far beyond just your wedding night meal. We'll cover the rehearsal dinner, breakfast and lunch on location for the bridal party, a cocktail hour, a reception, after party snacks and drinks and on-location brunch the day after. Call us at 808-677-0067 to learn more.