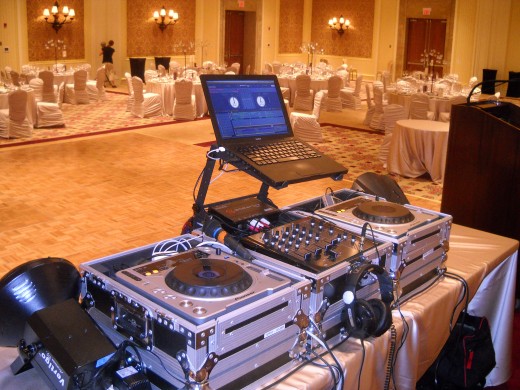 1. Decide what kind of DJ you are looking for. Do you want a DJ that is very talkative on the microphone or do you want a DJ who focuses the attention more on the hosts? Do you want a DJ service with professional lights? Turntables? Karaoke? Write down what you envision your event to look like and how you see the DJ performance.
2. Figure out your budget. Some DJ services will charge next to nothing for their services. Be careful. If the DJ service is less than $100 per hour find out why the DJ service is so cheap. You pay for what you get.
3. Consider where the DJ is from. It's not uncommon for large DJ services to hire out other DJ services to perform events for them. This is a huge red flag! It's best to hire a DJ service that lives close to the venue of which you will be having your event at.
4. Know who you're getting. It is very important to know who your DJ will be. Make sure the DJ service states in the contract who will be your DJ. Find out who your DJ will be for your event and setup a time to meet with the DJ prior to the event.
5. Understand your package. Some DJ services have "hidden" costs: setup, take-down, travel, meeting, preparations, etc. Ask the DJ service exactly what will be included in your package. All-inclusive deals are a great option especially if you want to avoid unknown fees.
6. Consider how long the DJ service has been in business for. The longer the DJ service has been in business the better. Five years experience and greater is a good indicator of a DJ service with good experience.
7. Find out whether the DJ service has performed at the venue in which you are having your event. If they have, this will be a huge benefit, as the DJ service will know how the venue operates and where the best place to setup is. If the DJ service has not performed at the venue, make sure the DJ service and the venue are on the same page and that the DJ knows where to setup.
8. Read testimonials and reviews. Testimonials are very important. Ask the DJ service for testimonials or three references of past persons they have performed for. DJ websites typically have testimonials somewhere on their page. If you can't find any, ask the DJ service for three references.
9. Find out the DJ service's policy on additional hours, should the event require more hours on the day of the event. Many events end up going longer then they were previously planned to end. Some DJ services take advantage of this and charge a very high price for additional hours. Some DJ services will not go beyond their contracted times. Ask the DJ service if they allow for additional hours and how much it would cost. If they charge more than $25 per hour more than the contracted hourly rate, you may want to go with a different DJ service.
10. Consider whether the DJ offers customizable music made by the hosts. Many DJ services like to play their own music that they deem appropriate for the event. Ask the DJ service if they have a form to request the type of music for the night and a listing of songs you would like to hear for the night.